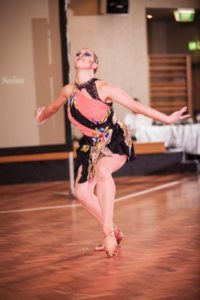 Welcome to Ladies Salsa Shines with Irina!
Yes, these classes are suitable for complete beginners, but experienced dancers are also welcome!
By attending out classes you agree to our Terms and Conditions. Please read them carefully.
In this course you will learn some elegant Ladies Salsa moves.  They consist of individual dance footwork (no partner required), sexy body moevent and styling with arms. I will also introduce you to the technique of vasious Salsa Spins.  Long term there are opportunities to compete as a team or even a solo dancer at  NZ Salsa Competitions!  These are split into different levels, so even beginners can enter!
It is recommended to join in week 1 and 2 if you have no previous experience as we will be adding on to the routine every week. At the moment we only offer this style in private lessons.
Below are some videos of the examples of more advances routines.  An elegant one and a fun one. Scroll down to see the different styles of the choreographies.
This class is for ladies only or men that wish to learn to dance in a faminine style.
What to wear:
Comfortable casual clothes
If you do not already have dance shoes, then we recomeent flat shoes with smooth ( non-grip) sole.
We recommend to bring a bottle of water.
How to make a payment:
You can bring cash and pay $10 at the door for each individual class or purchase one by following the event link below.
Save money and  prepay a a full course for $55 by following the link below.   Please note that there are no refunds on missed classes, it is your responsibility to make sure that you can attend the whole course.   Please always check the timetable for any changes.  To give us enough time to process your purchase, please buy your course by midday of the first class date.
Videos
If you have questions, please contact me on 021 2448952 or by email dance@dancewhanganui.com