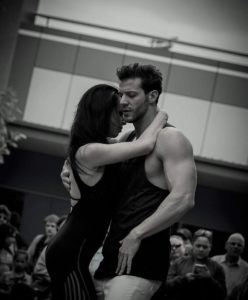 Private lessons are a more effective way of learning how to dance.
We offer classes for couples, individuals and small groups (up to 4 people).
Classes are available in following styles:
Classic Dominican Republic Bachata
Sensual Urban Spanish Bachata

In a private lesson we go through all little details that we cannot attend to in a group class.
Things such as: precise timing, spotting, head, hands and feet position more details on leading & following and many more as well as cleaning up any bad habits you may have picked up along the way.
Additionally you will proress faster than in a group invironment as each class is catered to your specific needs.

Some reasons why you should take Private Lessons:

Improve your dancing in general by having a teacher paying full attention to your needs, to polish your technique and increase your confidence on the dance floor.
To check your level of dancing and refining previous knowledge, to be ready for the next level of group classes
To fast track when you feel you could move up a level.
Performance training – any kind of training for performances is better when done one on one.
Convenience – A great way to learn for people that cannot take evening classes and/or option for people that work shifts.
If you are already a dancer, in any other style of dance, you should try private first and you might be able to move up to a higher level class.
Learning a routine to perform at a private party, event or to aim for a competition.

Every individual has their own special needs and the benefits are enormous, this is why we recommend private lessons.
You and your teacher for one hour and the whole studio for yourself. The offers bellow are prepaid and valid for 3 months.

1 on 1 Private Class

Choose your Instructor bellow and Book Now

2 on 1 Private Class

For Couples – 1 Instructor

Choose your Instructor bellow and Book Now

2 on 2 Private Class

For Couples – 2 Instructors

Videos

Take a quick sneak peek at one private class One on One (after 4 classes):

Contact us:
Email: dance@dancewhanganui.com
Phone (TEXT): 021 2448952 (Irina)
Phone (TEXT): 021 2745277 (Rene)
Cancellation Policy Please note that we have a 24 hour cancellation policy. If you cancel with less than 24 hour notice, you would still be charged for the lesson.