Bachata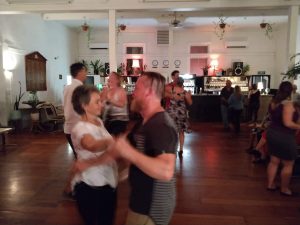 Welcome to Bachata for Adults!
We have 2 levels of classes. Beginners and Intermediate. Please check our timetable on the home page for the current classes.
Beginners is suitable for people with 0 experience, where as Inermediate is more suitable for those who have completed 1-2 Beginner courses.
By attending out classes you agree to our Terms and Conditions. Please read them carefully.
Bachata is one of the core Latin dance styles and is popular all over the world. With music typified by steel drum melodies, and a slower rhythm than Salsa, it can move from playful to sensual. This beautiful dance originated from the Dominican Republic and is easy to pick up. It started with bolero rhythms and is influenced by other styles such as Cuban son and merengue. Bachata arose in the marginalized areas of Santo Domingo during the sixties and early seventies after the death of Truijillo and it was dismissed as music of the poor classes. The themes of the songs are often bitter and the words talk about a lack of love and betrayal. Bachata has evolved and is been taking over an urban sensual tweak.
You can only join this course in Week 1 and 2 if you have no previous experience.
You can come alone or with your partner as we rotate couples in our classes.
At the end of the block we run social nights where you can come along and practice everything you have learnt in your Salsa, Bachata and Rueda 🙂
What to wear:
Comfortable casual clothes
If you do not already have dance shoes, then we recommend flat shoes with smooth (non-grip) sole.
We recommend to bring a bottle of water.
It is a partner dance, so don't forget a deodorant, a mint and a small towel on a hot day!
Videos
Take a quick sneak peek at one of our Classes