Dance Workout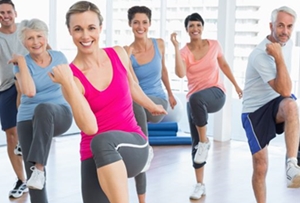 Welcome to Dance Workout!
SWEAT -SWEAT- SWEAT!!!  These are casual classes and can be attended any time!
These classes are based on basic moves from different dance styles and are focused on cardio – yes, similar to aerobics, but more fun! You will sweat, you will learn new steps, improve your cardio, improve your coordination.  Set your own personal goals.  With regular attendance,  you can also loose some weight, if that is one of your goals. You will also strengthen your legs, your abs and your arms !
Need help staying motivated? Buy a 10 pass concession card (valid for 3 months)
These classes are not only a nice workout but also a great get away from your usual routine!
By attending out classes you agree to our Terms and Conditions. Please read them carefully.
These classes are designed for adults, but if your child is well behaved, they may come along to watch.  Over 10 year olds may join in as well at a regular price.
Please bring:
Sneakers with non-grip sole are recommended
A towel
A bottle of water is a  must!
On a hot day I also recommend to bring a change of clothes for after the class.
Please note that these are general group classes and are not suitable for people with serious injuries or pregnant women. If you are in doubt, please contact your doctor for advise before attending.