SAVE $120 NOW! ONLY $250 FOR A FULL PROGRAM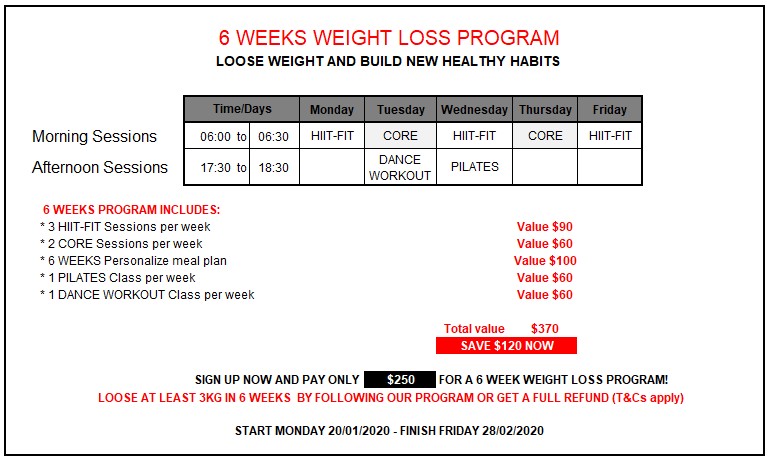 WHAT IS INCLUDED ?
A one on one weigh-in and measure before and after the 6 week program so you can see results on paper.
Before and after photos so you can see the difference that others see.
A 6 Weeks personalized meal plan to help you loose weight, yet have energy every day.
3 group HIIT-FIT sessions per week (No equipment, no gym) to help you burn fat.
2 group CORE classes to help flatten that tummy and feel stronger faster.
1 group Dance Workout per week to improve your fitness level
1 group Pilates class to help you with mobility, strength and flexibility
Right here, in Whanganui Central!
Program starts Monday 21st October 2019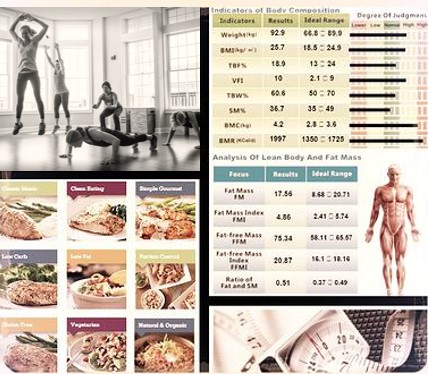 Terms and Conditions
6 Weeks Money Back Guarantee
Weight Loss Program comes with a 6 weeks money back guarantee.
You can request a refund only if you didn't loose a minimum of 3 kg and you have completed the whole program as prescribed.
If you miss one or more of any other sessions or classes of the program (3 HIIT-FIT sessions per week, 2 CORE sessions per week, 1 Dance Workout session per week, 1 Pilates session per week), you will not be entitled to claim your money back.
If you don't follow 100% the meal plan for the 6 weeks program you will not be entitled to claim your money back (we will request you to prove that you follow the meal plan eg: photos of your meals, supermarket receipt, and honest report of your cheating meals)
You will be weighed in on the first and last day of the program by one of our instructors on the same scales to get an accurate reading of the weight change
NO refunds are given in case of an injury.
100% money back: You will get the entire purchase price refunded when above conditions are met and you have not lost at least 3kg.
Throughout the program take advantage of our free customer support. We are real people just one click away from you and are willing to help you. Contact us at dance@dancewhanganui.com
SIGN UP NOW AND SAVE $120!