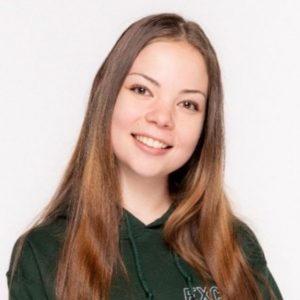 Born in Paraparaumu, Ginny first discovered her love for dancing at the age of 5. She was introduced to dance through community Tap and Rock'n'Roll classes in Feilding, then started performing in Tap dance competitions and shows after moving to Whanganui a few years later. When she was 9 years old she began branching out into other styles by joining Hip-Hop classes, Ballroom and Latin Dancing, and also Jazz. She loves the expression and energy that dance brings out in people, as well as the competitiveness.
In 2021, she completed her Diploma in Dance at Excel School of Performing Arts in Auckland, where she studied Contemporary Dance, Dance Fitness, Hip-Hop, and Jazz. Her experience in so many different dance genres influences her own dance style and choreography.
Ginny now looks forward to the next step of her dance journey as a teacher at Dance Whanganui so she can share her skills and experience with others.
"I love how unique dance is, just like people, there is never one dance the same"
Some of her Achievements are:
American-Jazz Dance Affiliation (Advanced Level Two and Level One Exams) with Honors.
NZ Federation of Dance Teachers (Gold Cross Ballroom Medal) with Honors.
Dance NZ Made Regionals 2018 (Year 13 Soloist) First Place.
NZ Open Dance Championships 2017 National (Youth Level 1 Latin) First Place.